Shinro Ohtake:
BLDG. 1978-2019
April 13(Sat) 2019 - June 16(Sun) 2019
It is with great pleasure that we present Shinro Ohtake: BLDG. 1978-2019.
Shinro Ohtake made his debut in the early 1980s. Working in a diverse range of media including painting, collages of printed matter, photography, and installation, Ohtake's has continued to exert an influence not only on art but also on fields such as literature and design. Focusing on a series of paintings called "BLDG." which the artist has made for approximately 40 years since the '70s, this exhibition provides a complete picture of Ohtake's career.
The series is not made up of real landscapes depicted in their original form. Rather, Ohtake randomly mixes fragments of memory related to the humidity, heat, noise, and smells that are distinctive features of various cities, including Hong Kong, London, and Tokyo, in order to create virtual landscape paintings based on the form of buildings.
The exhibition asks viewers to consider the significance of an artist who has made pictures by hand for dozens of years in the present era, the golden age of digital technology.
Shinro Ohtake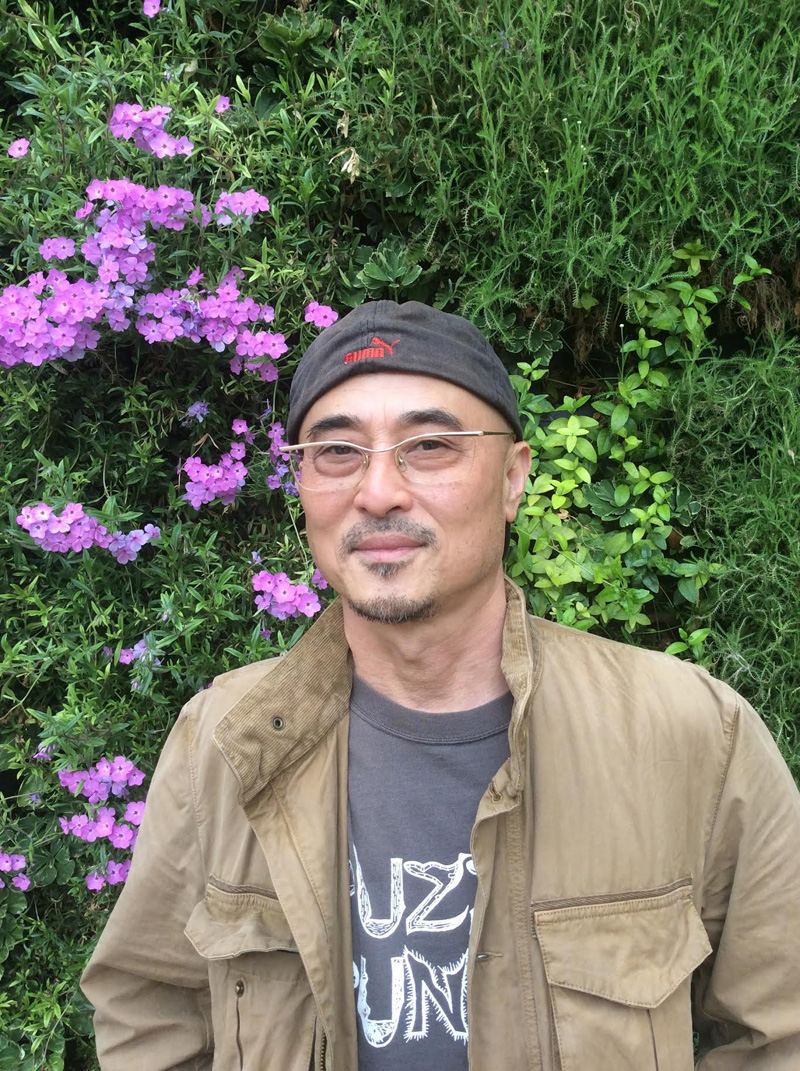 © Shinro Ohtake, Photo by Shoko
Born in 1955, Tokyo. Began showing his works inside and outside Japan since the early 1980s. Since his first retrospective Shinro Ohtake Zen-Kei: Retrospective 1955-2006 (2006) at Museum of Contemporary Art, Tokyo, had many solo shows at Tokyo, Kagawa, Soul, London, Singapore, etc.. Participated in the 8th Gwangju Biennale (2010), dOCUMENTA (13) (2012), the 55th Venice Biennale (2013), the Yokohama Triennale 2014 (2014), and the Setouchi Triennales (2013, 2016).
Well-known public arts are "Shipyard Works" (1990), Art House Project Hisha "Dreaming Tongue/ Bokkon-Nozoki" (2006), Naoshima Bath " I❤︎湯" (2009) at Naoshima, "Mekon" (2013) at Megijima and "Needle factory" (2016) at Teshima, Kagawa. Also Drop curtains "Kita no Sora ni Ukabu Katachi" (1999) at Sapporo, Hokkaido and "Shu-Kei" (2001) at Ikata, Ehime.
Published essays "Mienai Oto, Kikoenai E" (2008), "Bi" (2013) from Shinchosha. Picture book "Uncle Jari" (1994) from Fukuinkan. New release essays "Nanika to Nanika" from Shinchosha on Nov. 2018. Essay "Mienai Oto, Kikoenai E" is now appearing serially in the magazine "Shincho".
Awarded Art Encouragement Prize for Fine Art by the Japanese Ministry of Education, Culture, Sports, Science and Technology in 2014.
Exhibited Works
Abandoned Zone

 2019

Building with White Wall 2

 2017

Big Portrait of Floating Bldg.

 2002
Collection of Hiroshima City Museum of Contemporary Art

Car Window

 2000-2001
Collection of Takamatsu Art Museum

Bldg.

 1984

Tokyo V

 1984
© Shinro Ohtake, Courtesy of Take Ninagawa, Tokyo, Photo by Kei Okano
Exhibition Information
Dates:

April 13(Sat) 2019 - June 16(Sun) 2019
Opening Hours:

10:00 AM - 8:00 PM (admission until 7:30 PM)
Closed:

Tuesday *April 30 (Tue) is open
Admission:

Adult:

¥1000 (¥800)

Seniors (65 and over):

¥800 (¥600)

Students (High school students and over):

¥500 (¥400)

Junior high school students and under:

¥0

*The admission given in parentheses are for advance tickets / group (20 and over) / with one-day ticket for tram or bus, etc.

*Advance tickets will be on sales until April 12(Fri.).
Venue:

Contemporary Art Museum, Kumamoto Gallery I and II
Organized by:

Contemporary Art Museum, Kumamoto (Kumamoto City and Kumamoto Art and Culture Promotion Foundation), The Yomiuri Shinbun, The Japan Association of Art Museums, KKT
Presented with the sponsorship of:

LION, Dai Nippon Printing Co., Ltd., Sonpo Japan Nipponkoa
Under the auspices of:

Kumamoto Prefecture, Kumamoto Prefectural Board of Education, Kumamoto City Board of Education, Kumamoto Ken Bunka Kyokai (Cultural Association of Kumamoto), Kumamoto Ken Bijutsuka Renmei (Artist's Union of Kumamoto), Kumamoto International Convention and Tourism Bureau, , J:COM, FM-Kumamoto, FM791
Cooperation with:

Take Ninagawa, HeHe
Subsidized by:

Japan Arts Council