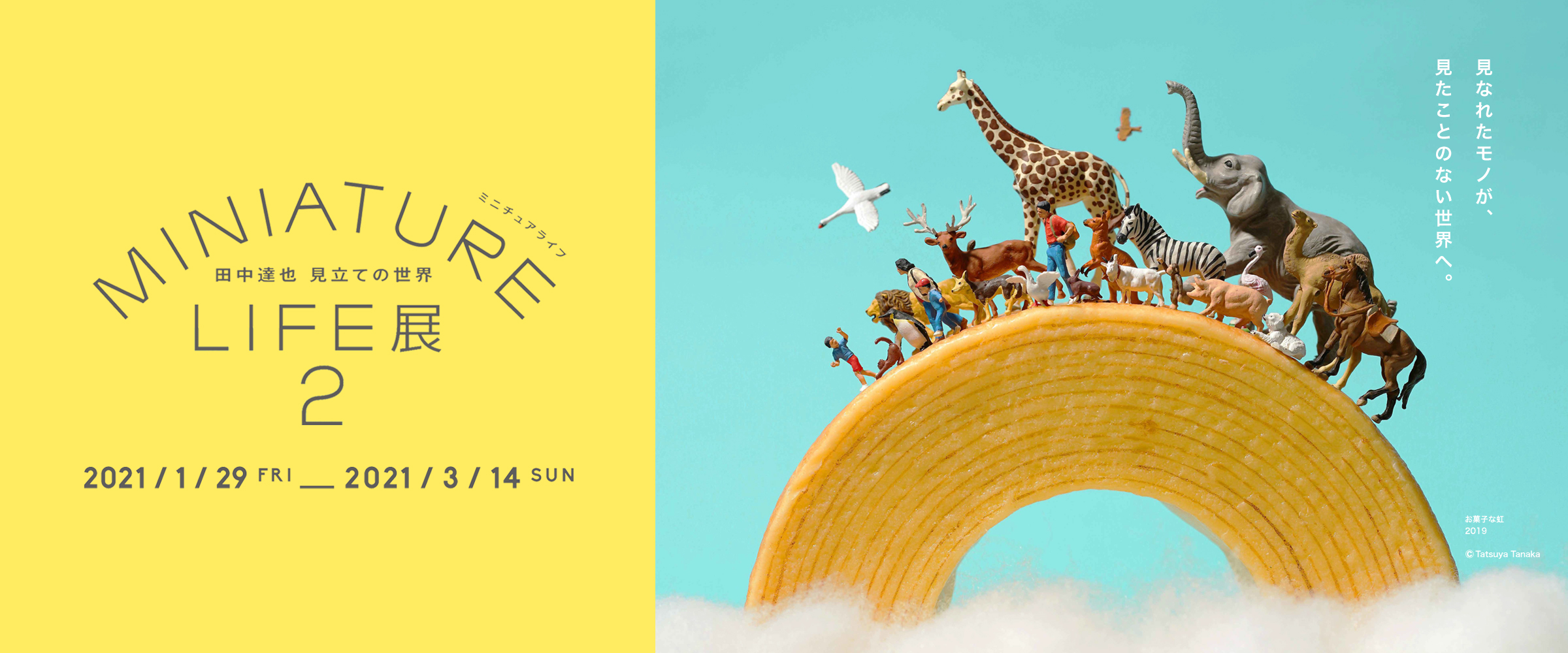 MINIATURE LIFE EXHIBITION 2
Tatsuya Tanaka Main Works
January 29(Fri)-March 14(Sun), 2021
Everyday Objects, A World You've Never Seen
Tatsuya Tanaka regularly uploads and shares photographs of miniature depictions, or mitate, of scenes from normal life that he creates using diorama figurines and everyday products. These works quickly spread throughout the world via social media and bring joy to people of many different cultures and generations.
In this exhibition, we will display about 120 representative photographic works, as well as 50 of these miniature scenes and objects, that have been made in recent years.
This exhibition will introduce visitors to the charm and secrets of the active, hardworking, and unique artist, Tatsuya Tanaka, whose works incorporate both current affairs and lighthearted humor in line with the ongoing tradition of Tsukurimon citizen culture that began in Kumamoto during the Edo period.

We will also be debuting moving miniature works and Kumamoto-themed exhibits that can only be seen at this exhibition! Also, feel free to enjoy our special photo spots that allow you to enter Tatsuya Tanaka's miniature worlds!
Tatsuya Tanaka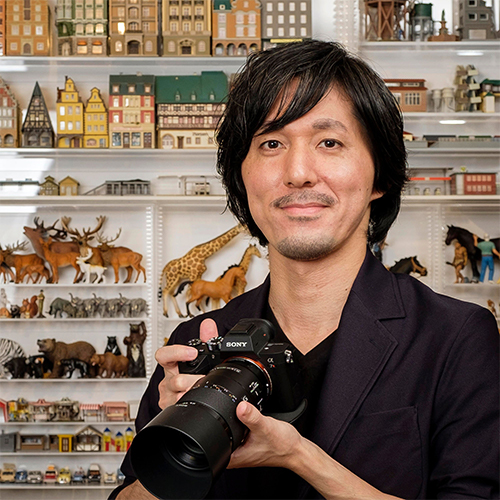 Miniature and resemblance artist. Born in Kumamoto Prefecture in 1981. In 2011, he began creating a "MINIATURE CALENDAR", a form of art that sees him use alternative items to recreate everyday things in miniature form. Since then, he has been updating and uploading content to present online on a daily basis. His exhibition, "MINIATURE LIFE Exhibition: Tatsuya Tanaka's World of Resemblance", which is being held both domestically and internationally, has had a total of over 1,000,000 visitors (as of November 2019). As part of his main job, he designed the title sequence for the 2017 NHK serial TV drama, Hiyokko, and the movie used for the opening of the Nihonbashi Takashimaya S.C. department store. He currently has over 2,700,000 followers on Instagram. Some of his works include "MINIATURE LIFE", "MINIATURE LIFE 2", "Small Wonders", and "MINIATURE TRIP IN JAPAN".
#Nature
Rainbow

 2019

Bamboo Pencil

 2017
#Workers
Escalator

 2017

Routine Traffic Stop (pre-LED)

 2017
#Sports
Denim Surfing

 2018
#WorldTravel
Have a Rice Trip!

 2018

Cosmetic City

 2017
#Adventure
Bagelchuting

 2017

Hungry Hunter

 2017
#HaveFun
Soaking Up the Summer

 2017

Studying can be fun!

 2016
#Vehicle
Sushi City

 2018

This lot is full.

 2015
#Family
Mommy side up

 2016

Mosquito-Free Garden

 2017
© Tatsuya Tanaka
Exhibition Information
Dates

January 29(Fri)-March 14(Sun), 2021
Opening Hours

10:00-20:00 (admission until 19:30)* On March 2nd and 9th: 10:00 to 17:00 (admission until 16:30)
Closed

Tuesdays, February 24 (except February 23, March 2nd, March 9, 2021)
Venue

Contemporary Art Museum, Kumamoto, Gallery I,II
Admission

Adult:

¥1100 (¥900)

Seniors (65 and over):

¥900 (¥700)

Students (High school students and over):

¥800 (¥600)

Junior high school students and under:

Free

*The admission given in parentheses are for advance tickets / group (20 or more) / with one-day ticket for tram or buss, etc.
Advance tickets will be on sale until January 28th.
Ticket handling

Contemporary Art Museum, Kumamoto, Nagasaki Bookstore, TSUTAYA Bookstore Kumamoto Sannenzaka, Kumanichi Playguide, eplus (e+), Lawson Ticket [L Code: 81489]
Organizer

The Committee for "Tatsuya Tanaka Exhibition Kumamoto" (Contemporary Art Museum, Kumamoto, Kumamoto Asahi Broadcasting Co., Ltd., SHARE BASE Co., Ltd.) and Kumamoto Nichinichi Press
Production

NHK Service Center, CoCo Inc.
Cooperation

MINIATURE LIFE Co., Ltd.
Support

Kumamoto Prefecture, Kumamoto Prefectural Board of Education, Kumamoto City Board of Education, Kumamoto Ken Bunka Kyokai (Cultural Association of Kumamoto), Kumamoto Ken Bijutsuka Renmei (Artist's Union of Kumamoto), Kumamoto International Convention and Tourism Bureau, J:COM, FM-Kumamoto, FM791