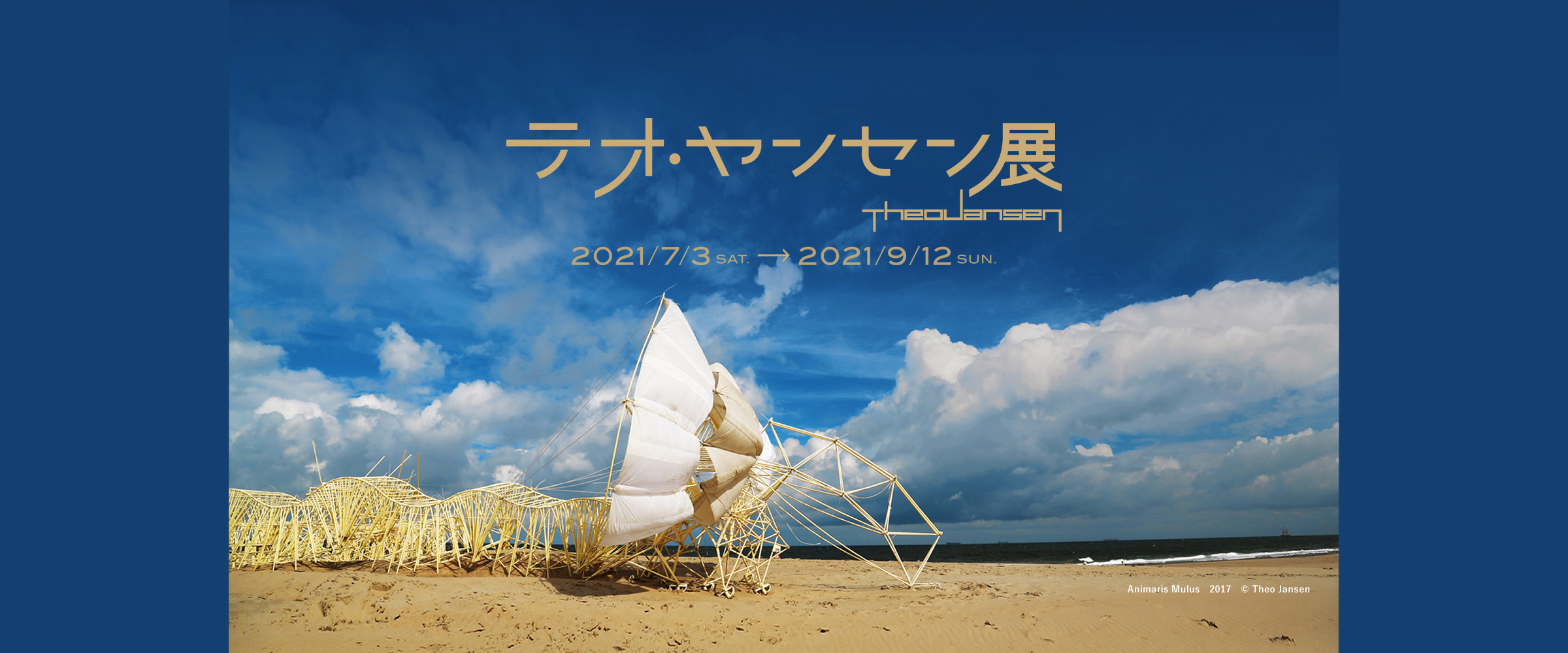 Theo Jansen
July3(Sat.)-September 12(Sun.), 2021
Strandbeest runs on the sandy beaches of the Netherlands with the wind as the power source. The entire body is shaped with a yellow plastic tube, and its physics-based movement is smooth and organic, as like living things. They were created by Dutch artist Theo Jansen (1948–) to solve the problem of rising sea levels in his homeland. Aiming to survive on the sandy beach independently even after the artist's death, Strandbeest will acquire functions such as walking, turning, and danger detection, and will acquire a system for adapting to various environments. Life forms that have continued to evolve while repeating life and death and inheriting genes and genetic information offer us new possibilities across the existing categories of art and science. 
This exhibition introduces more than 10 works including a strand beast with a total length of over 10 meters. You can also experience how it actually moves.
Selected Exhibits
Animaris Rigide Properans
1995 (Tepideem 1994–1997)
2.5×1.6×2.0m

Animaris Percipiere Primus
2006 (Cerebrum 2006–2008)
10.0×2.0×3.0m

Animaris Plaudens Vela
2013 (Aurum 2013–2015)
10.0×6.0×4.0m

Animaris Uminami
2017 (Bruchum 2016–2019)
5.0×4.5×3.0m

Animaris Mulus
2017 (Bruchum 2016–2019)
13.0×6.0×3.0m

Animaris Omnia Segunda
2018 (Bruchum 2016–2019)
10.0×4.0×2.5m
© Theo Jansen
Exhibition Information
Dates

July3(Sat.)-September 12(Sun.), 2021
Opening Hours

10:00-20:00 (admission until 19:30)
Closed

Tuesdays
Venue

Contemporary Art Museum, Kumamoto, Gallery I,II
Admission

Adult:

¥1300 (¥1100)

Seniors (65 and over):

¥1000 (¥800)

Students (High school students and over):

¥800 (¥600)

Junior high school students and under:

Free

*The admission given in parentheses are for advance tickets / group (20 or more) / with one-day ticket for tram or buss, etc.
*Advance tickets will be on sale until July 2nd.